What makes October the perfect weather to visit Halong Bay?

Halong Bay is very hot from April to September but cools from October to March.  
It is difficult to define what the best month is to visit this natural wonder because this totally depends on the preference of each visitor.
For example, many avoid rainy months for fear of frequent downpours and tour cancellation due to bad weather but others love the quiet atmosphere of this low season.
No matter what season you prefer, October is no doubt one of the best months for visitors thanks to its amicable weather which is, overall, neither too hot or too cold.
Here are 5 things you need to know when planning a Halong Bay tour in October:
1. The weather is very pleasant
Generally, September is still very hot but rather wet (though not as blazingly hot as summer months) while November brings along chilly winds and crowds of visitors.
October stays in the middle as you can still feel the warmth of summer but without lots of daily downpours.

The average temperature during October is 25 C degree with the highest of around 28 C degree and the lowest of 21 C degree at night.
As a result, this cool weather is ideal for those who feel uncomfortable with the summer's heat in Vietnam. Since this month is not really prone to heavy rains, the risk of tour cancellation is low compared to the previous 3 months.
Near the end of the month, there can be some chilly days but you still do not need to pack heavy sweaters with you; just light summer clothing and a light jacket will be enough. In case you spend a lot of time outside, bring some sunscreen with you.
There are about 6 hours of nice sunshine each day and the average humidity level is 72%, which are quite the same as in September. It rains about 11 days this month but also does not each long each time.
2. The sea water is perfect for swimming
If you love swimming, October is a great time to do so with the average sea temperature of about 27 C degree. It is totally fine to swim for hours without worrying that it is too hot outside.
From November, it starts to get cold for swimming.
Swimming in the calm, emerald green water will be a very refreshing experience for you so do not miss it. Let your body flow on the water, feel the smooth-white sand and watch the golden sunshine above to chase away your worries of daily life.   
3. There are a lot of outdoor and sea-based activities to do explore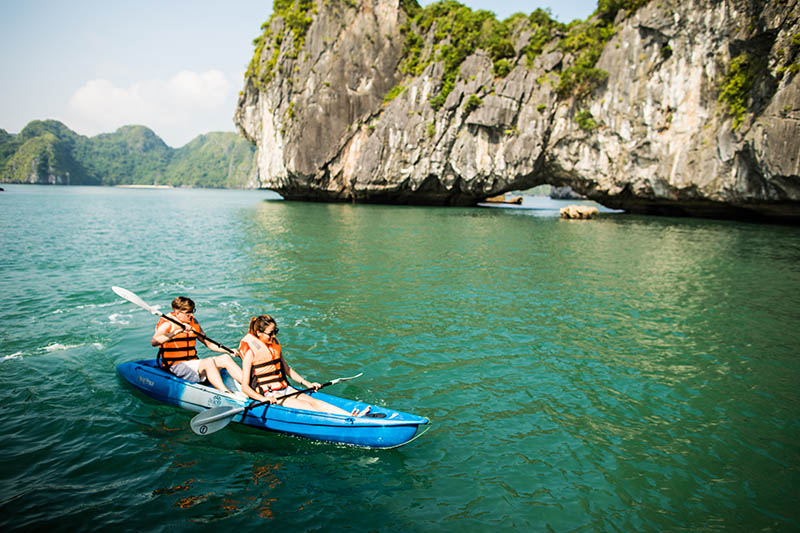 With moderate temperature and light, cool breezes, visitors can take part in various outdoor activities without worrying about sweating too much.
Now that the chances of frequent downpour ease remarkably, visitors can freely explore each and every corner of islands, caves, and grottoes in Halong Bay.  
Try riding around the island on a rented bike to see the daily life of local people and watch over the island from different angles along the way.
For adventurous visitors, activities like hiking and kayaking are the right fit for you.
One small tip when it comes to kayaking: do not worry that this is for the professionals only. In fact, this activity is designed for everyone and even amateurs can quickly grasp the basics after about 30 minutes.
The amicable weather of October is ideal for booking a cruise to explore the island.
Better yet, the romantic light breeze at night will accompany you when you witness sunset and sunrise on the cruiser's deck.
It is wonderful to watch the water turn from emerald to grey-blue and then to crimson with the last rays of the sun, signalling the night come.
At that instant, suddenly the bay becomes one color only before being coated in the moon's silver light. Sunrise brings about hopes of a new beginning with a brand new day.
It is such an amazing experience that you should not miss!
4. Halong is still not very crowded at this time of the year
October signals the end of the low season in Halong Bay. Even though the number of local visitors is not high, there is an increasing influx of international visitors.
However, the place is still quite peaceful. Even though you may not get large discounts or promotion programs like in July to September, services are good when there are not too many customers to serve.
5. The scenery is breathtaking
Last but not least, it is the stunning scenery of Halong Bay in autumn. Just take a boat or cruise trip around the bay during the autumn day and find yourself get lost in the thin vase of mist and the light sea breeze.
Halong is truly heavenly during autumn and the view from a seaplane can leave you breathless.
October is not in the peak travel season to Halong but it offers the most pleasant weather of the year for visitors. So if you have some free time this month and still wonder if it is a good time for traveling, do not hesitate anymore: just pack your bag and let Halong welcome you with its charm.
Take a look at what Halong Bay overnight cruise offers from Bhaya Cruise for your October Trip!