A Must-Have Halong Bay Travel Guide For First Time Travelers (2020)
Halong Bay
The Ultimate Guide For First Time Travelers
For a lot of people, Halong Bay is a place you need to visit at least once. 
For some, it's a place that's unheard of and an unfamiliar destination talked about because of its natural beauty or maybe because of its world heritage title.
If you are planning a trip to Halong Bay while feeling lost and overwhelmed with all the blog post and information that roam the vast internet world about Halong Bay and beyond, this ultimate travel guide will give you everything you need to know to plan your perfect trip to Ha Long Bay.
What Halong Bay Is Famous For?
Ha Long Bay as known as a UNESCO World Heritage Site is famous because its stunning limestone mountains raising up from emerald waters that formed from thousand years ago. 
You also can have a chance to explore amazing caves as well as the culture of Ha Long.


Where is Halong Bay, Vietnam?
The Bay is recognized as a UNESCO World Heritage Site twice and a very popular tourist destination in the northeast part of Vietnam, under the management of both Quang Ninh and Hai Phong provinces.
The whole bay has an area of around 1,500km2, which contains approximately 1,969 islands and islets made from karst and limestone towers.
A long history and tremendous values lie within these magnificent limestone mountains. 
Normal limestone mountains are usually found on the ground, however, the the Bay's limestones are raised from above the water.
It's taken 500 million years to form Halong Bay to 2000 limestone islands as today.
Human beings have inhabited the area for centuries but made no damage to the heritage. The appearance, indeed, added unique cultural values to Ha Long Bay.
Who has been to Halong Bay?
From world leaders, celebrities, fashion icons, to Hollywood film directors, this destination has probably welcomed the world's most influential leaders. The list includes 
Brad Pitt & Angelina Jolie, 
The late celebrity chef Anthony Bourdain,
Numerous presidents and prime ministers, 
Facebook's Founder/CEO Mark Zuckerberg and his wife Priscilla Chan, 
Hollywood film directors and actors, and many others. 

It shows how the destination bringing so much importance to the representation of Vietnam to the rest of the world. 
To go beyond the overcrowded Ha Long Bay area, the Bay Management will have 3 kind tickets (followed by 3 routes below) that tourist or tour companies can buy. If you buy tickets for Route #1, you can only visit the attractions in Route #1. 
If you would like to mix-up attractions between different routes, you will have to buy an extra ticket(s) to visit the attractions. 
Most of tour companies will only buy ticket for one route, but you should consult with your tour company about what you would like to visit.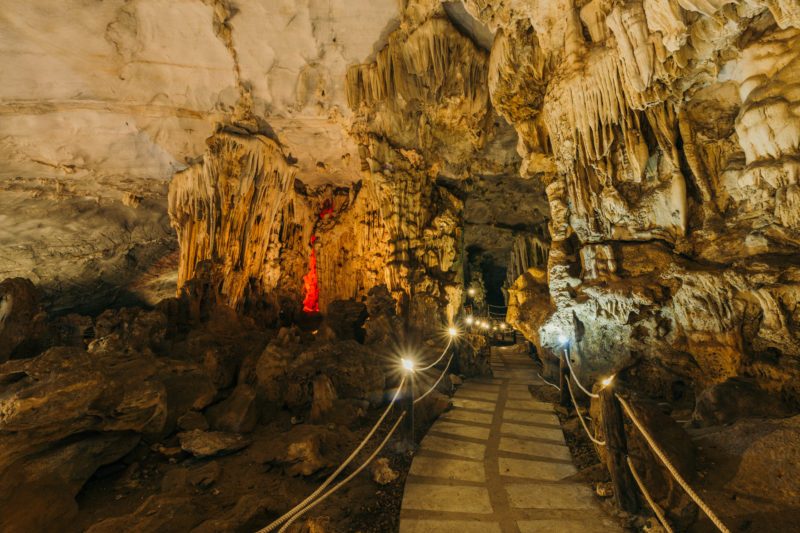 Tien Ong Cave
Tien Ong maintains its pristine beauty which will surely charms visitors.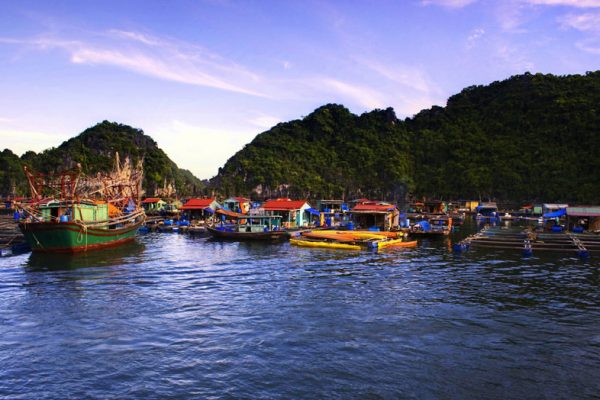 Cua Van Fishing Floating Village
Ranked among the world's most beautiful small villages by Huffington Post, visiting Cua Van is an opportunity for guests to explore more about local culture that has existed for centuries.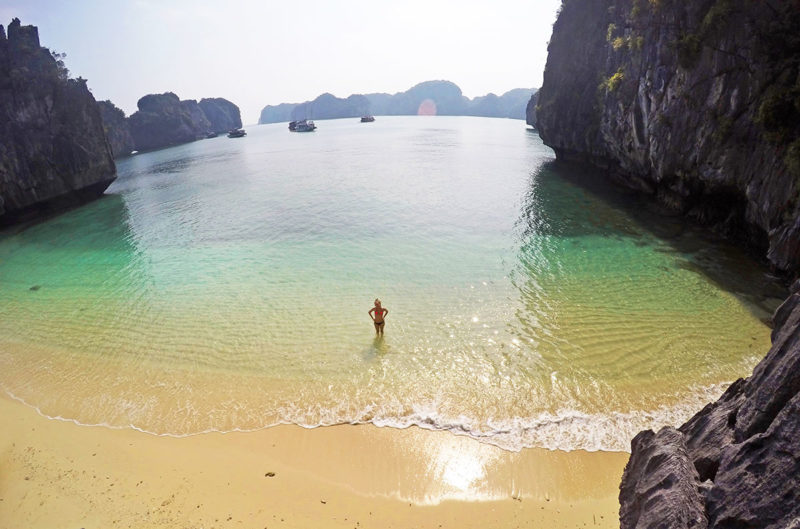 Three Peach Island
Humbly located in off the beaten path area, Three Peach Island offers beautiful sandy beach with crystal clear water, and is an ideal place to kayak or swim.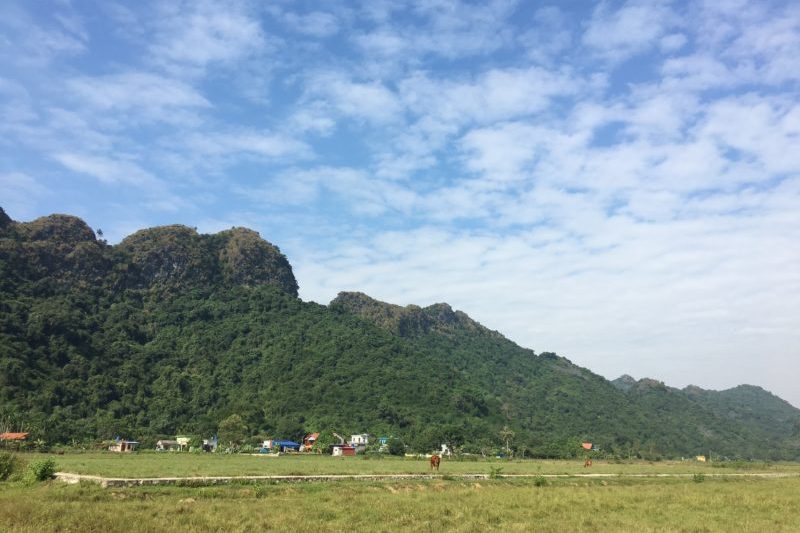 Viet Hai Village
Viet Hai is the best example of peace amidst the so-call "crowded Lan Ha Bay". Viet Hai is on Cat Ba Island and rich with its own culture. The village is opens a whole new world to its guests.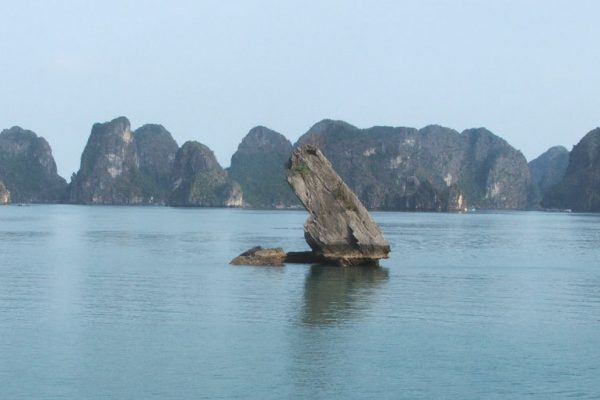 Coc Cheo Islet
The place is within the area filmed Kong, Coc Cheo Islet is small and has interesting shape. The whole area is a treasure hunt for cine-lovers!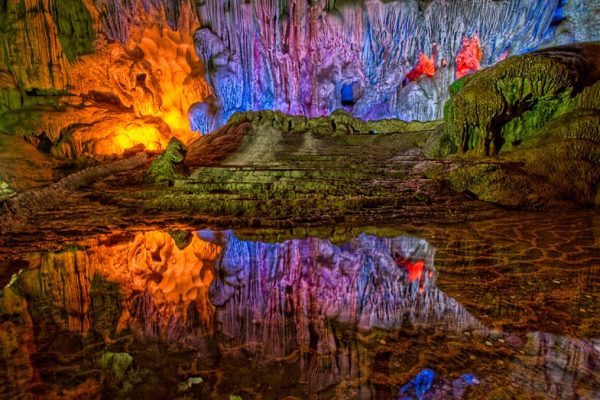 Maze Cave
As said in the name, Maze Cave has phenomenally complex structure and remnants of preliminary Halong culture (7,000 - 10,000 years ago).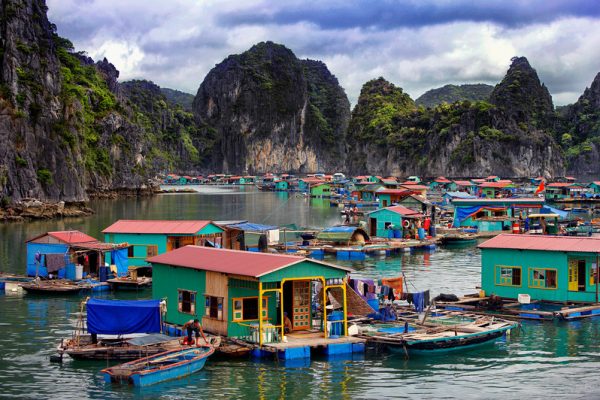 Vung Vieng Fishing Floating Village
The number one activity and must-do in Halong Bay, a visit in the World's wonder is never complete without doing a short ride on a junk cruise across the limestone formations and emerald waters.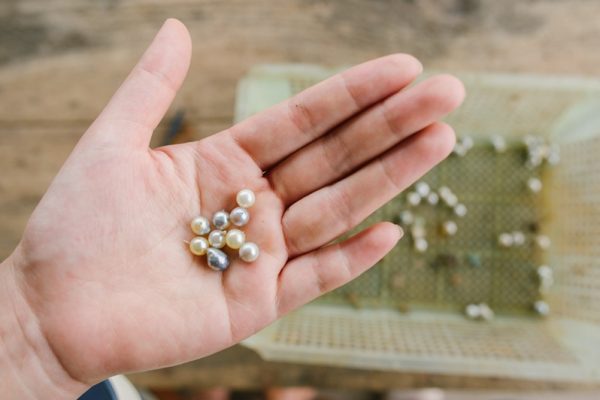 Tung Sau Pearl Farm
Perfect for those who like to explore on their own and for those who have more active lifestyles, kayaking through Ha Long Bay is one of the best ways to experience the area.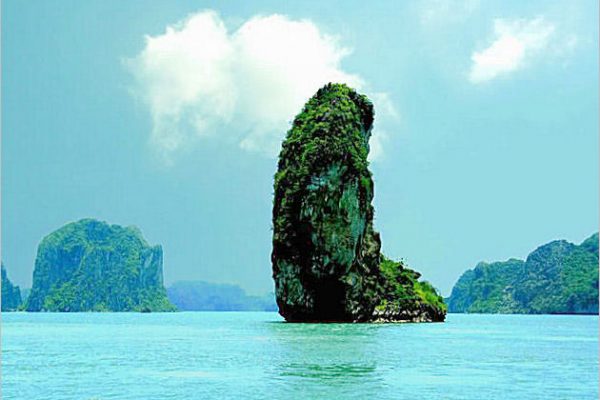 Finger Islet
The islet is shaped as a finger, aiming to the sky. The surrounding around this islet will create very unique photo background for tourists.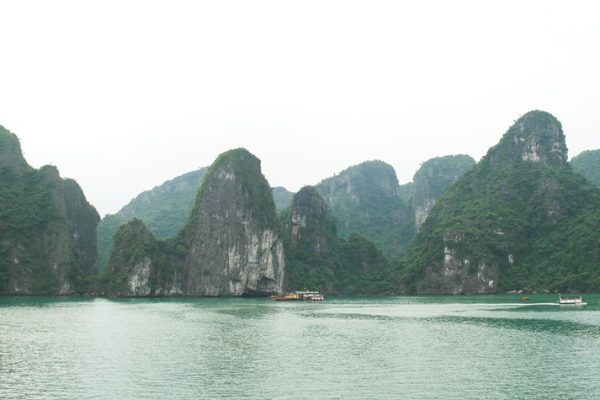 Kong Skull Island
After seeing the movie on silver screen, perhaps lots of people wonder what the real Kong Skull Island looks like in reality. Why not coming to Halong Bay to figure out?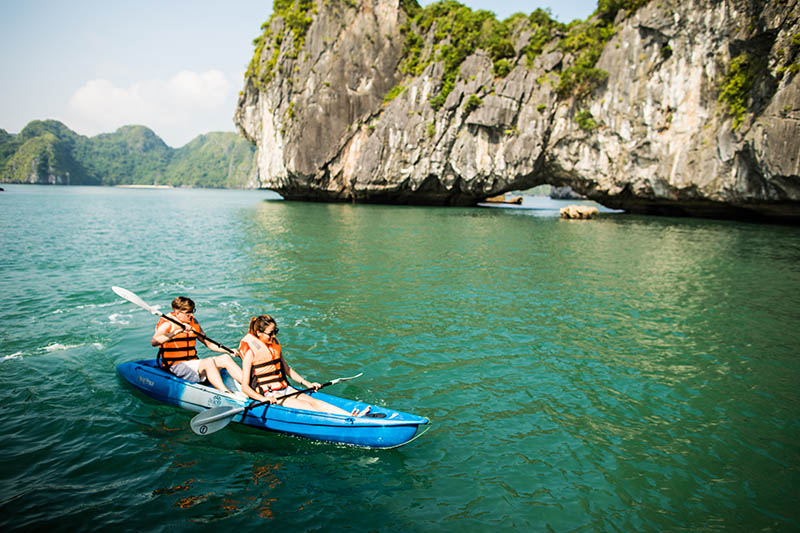 Dau Be Island
The island is one of the most hidden gems of Ha Long Bay that definitely offers fresh air to its visitors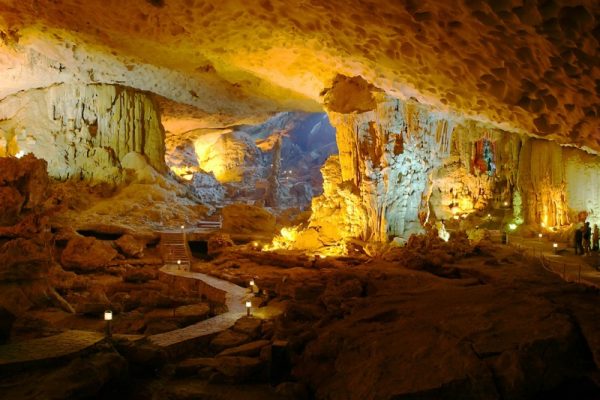 Thien Canh Son Cave
The wild cave has attracted both domestic and foreign visitors annually for its mysterious and gorgeous stalagmites and stalactites. It has 100 stone steps similarly to stairway to heaven.

Titov Beach
The beach is shaped like crescent moon that can be captured from above. Titov has been well known to many tourists all over the world.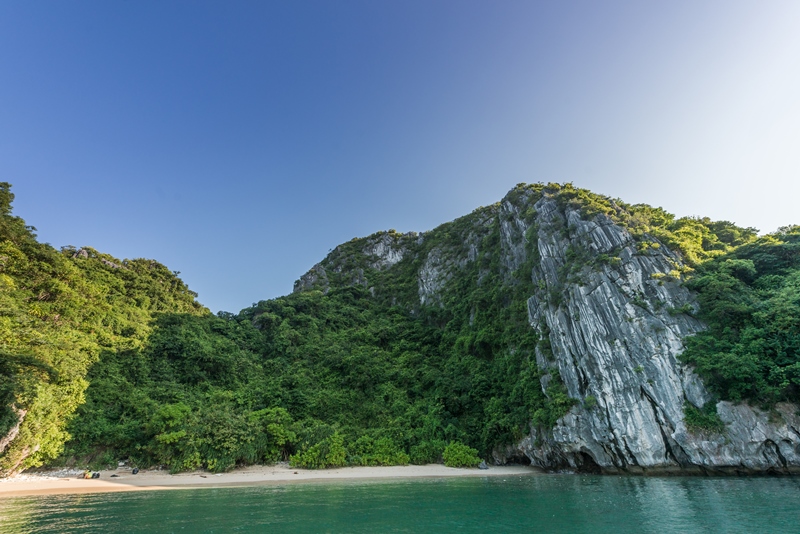 Ba Ham Lake
Its water scene is perfect for kayaking, snorkeling, and swimming. Ho Ba Ham offers very peaceful and a holy sense.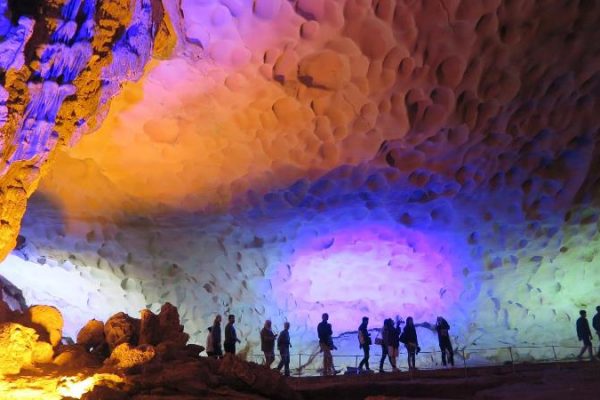 Surprise Cave
The largest cave of all in Ha Long Bay, different departments of this cave will keep you "wow"-ing the whole time.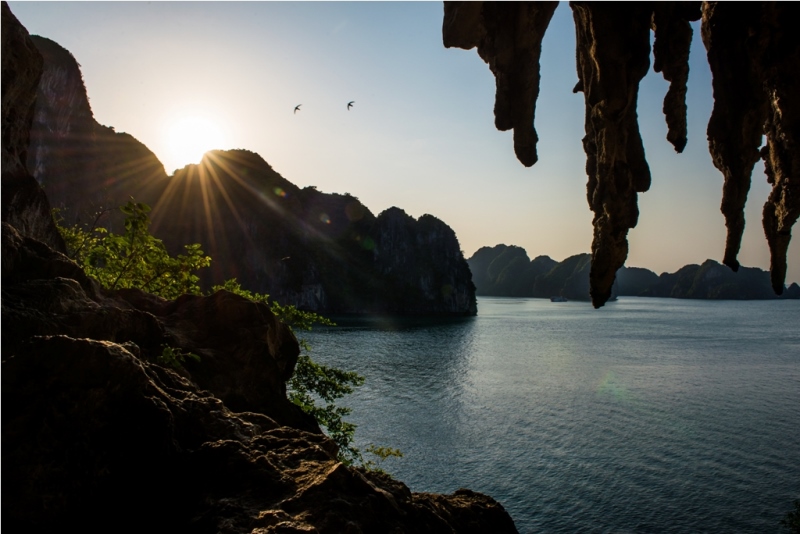 Trinh Nu Cave
The cave is often related to the faith in romance and absolutely a charm! Come and visit Trinh Nu Cave to listen to its beautiful story and sense the elegant surrounds created by the Nature.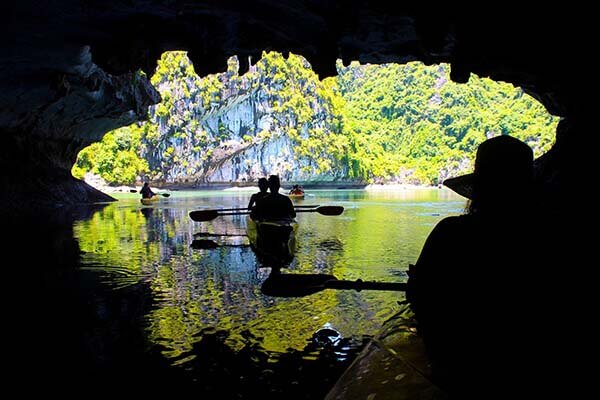 Luon Cave
Guests will fall in love with the idyllic vibe as seeing stalagmites and stalactites up-close. The clear waterway is very relaxing as guests can surpass the cave via sailing.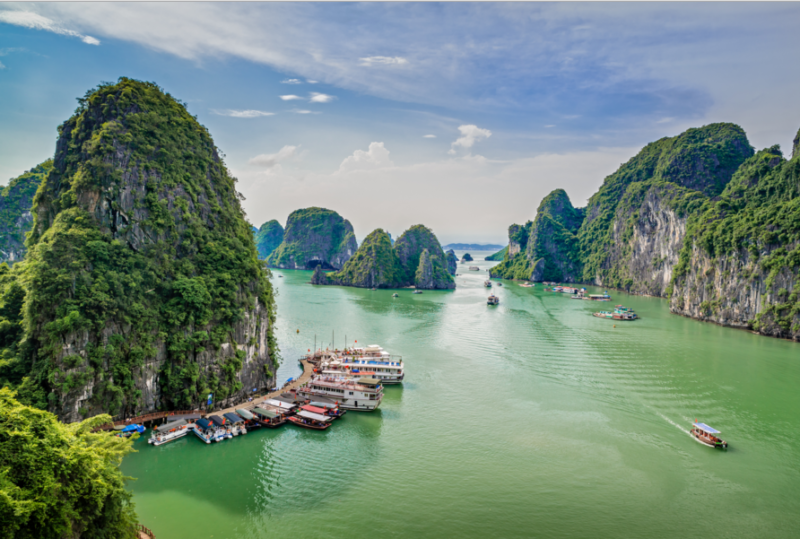 Cong Do Island
Located in Bai Tu Long Bay, Cong Do Island is less known to the world, but its ecosystem is thriving with diversity.
Things To Do In Halong Bay
Covering such a wide area for tourism and economic purposes, Ha Long Bay is the place where you'll never run out of things to do.
From outdoor and active activities to a more relaxed and food-focused itinerary, there's always something to do for all kinds of travelers.
Here are some bonus activities besides visiting famous attractions you can expect when join a Ha Long Bay Tour.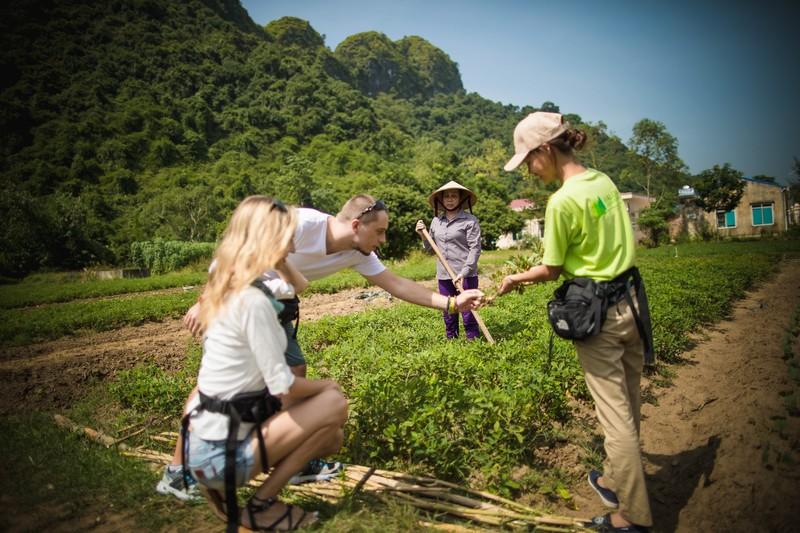 Join a Farming Tour
Experience and learn how to be traditional farmers like planting organic ingredients, guests will find a variety of unique plants of Vietnam via this activity.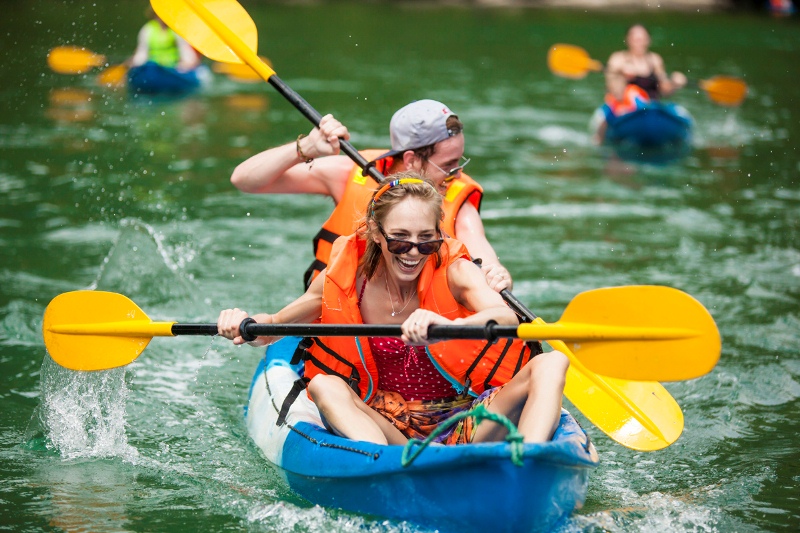 Kayaking
Perfect for those who like to explore on their own and for those who have more active lifestyles, kayaking through Ha Long Bay is one of the best ways to experience the area.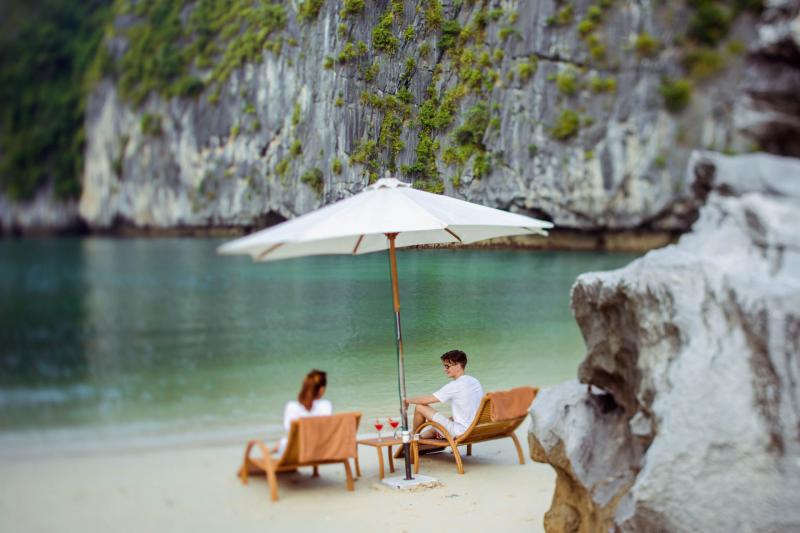 Sunbathing
Only appropriate and doable in specific times of the year, sunbathing in Ha Long Bay is mostly overlooked by many visitors. But the scenery, the unique feel, it's just pure bliss!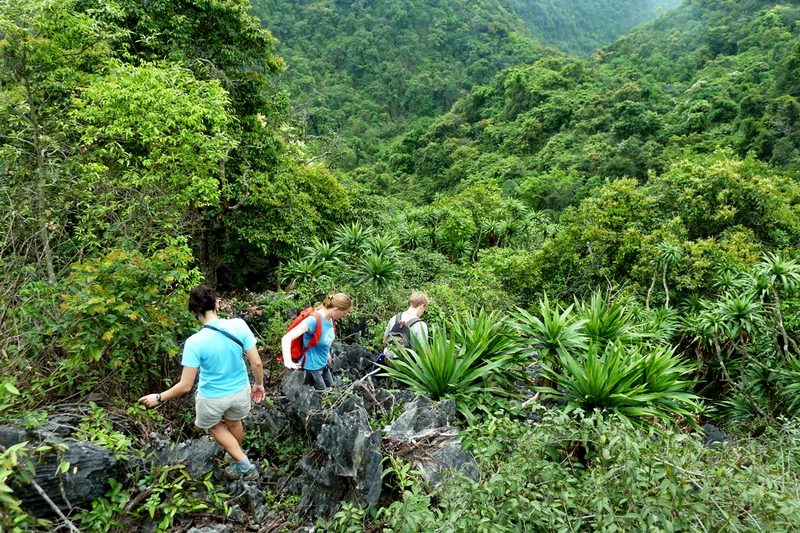 Trekking
Trekking is very much doable in any part of Ha Long Bay, whether you're staying in Tuan Chau Island near the fishing villages, Cat Ba Island, or by Hon Gai District, there are places where you could trek or hike.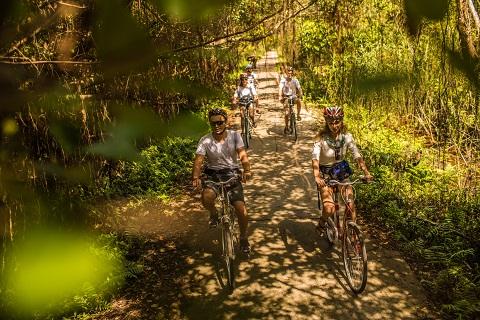 Cycling
Same as trekking, cycling can be done in almost every major part of Halong Bay and Ha Long City, including Cat Ba Island and the city center.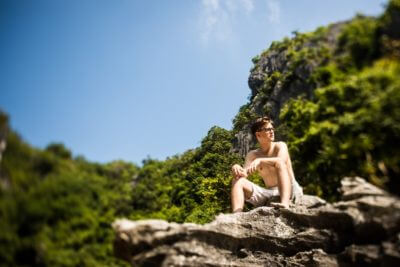 Rock Climbing
With limited options and only provided by one company in Cat Ba Island for now, rock climbing is advisable for the sporty travelers.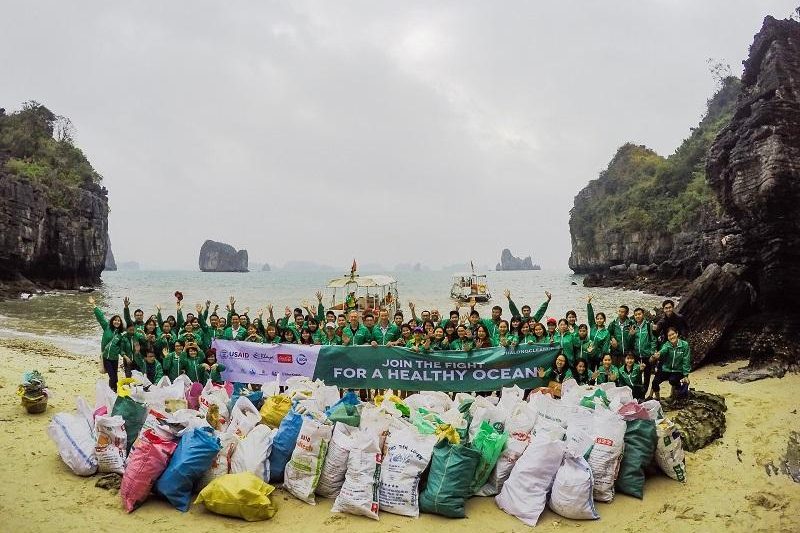 Clean The Bay
Although passengers cannot directly join in our program, they can contribute in different ways that still return tremendous meaning to the environment and ecosystem.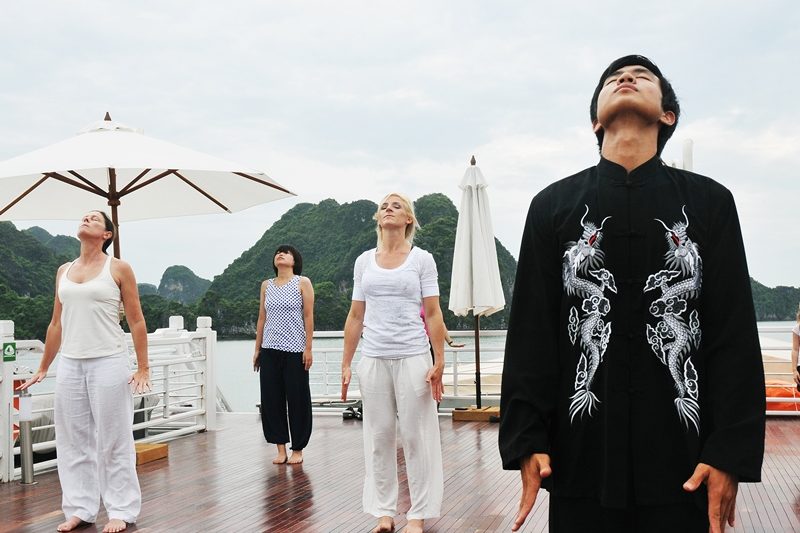 Tai Chi
One of the most common early morning activities for those doing the overnight cruises, Tai Chi is a great alternative to a morning exercise onboard.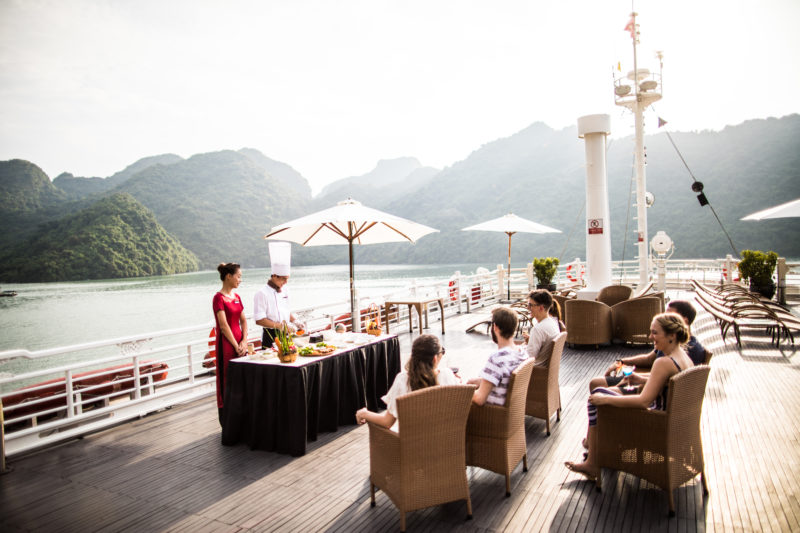 Cooking Class
Also one of the most common activities onboard for overnight and 2-night cruises, cooking classes usually take place in the afternoons after all the off-board activities and right before everyone settling down for the dinner.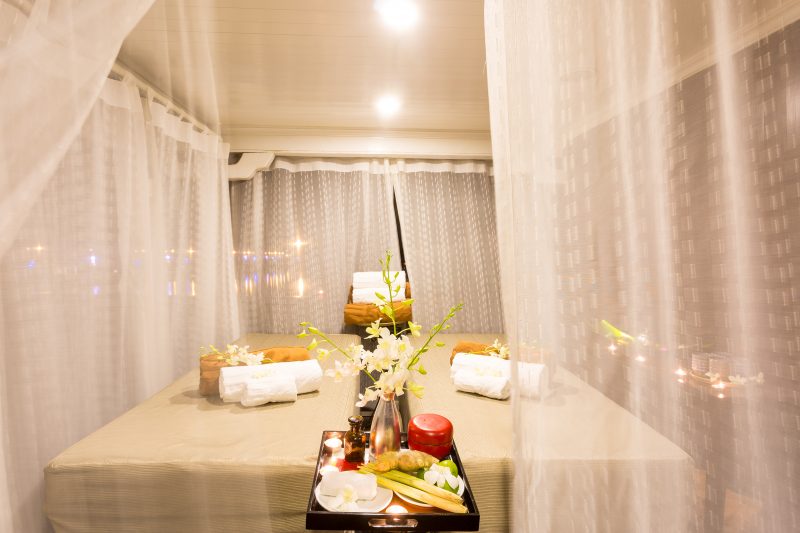 Spa & Wellness
Usually available in luxury cruises, spa and wellness services are readily available for those who want to maximize their relaxation time, most ideally while cruising over the calm waters.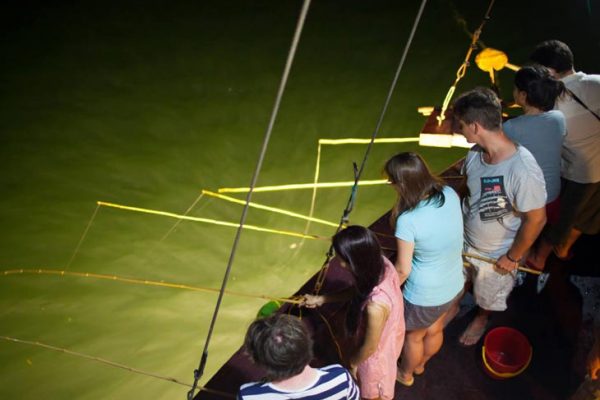 Squid Fishing
The cruise activity that everyone looks forward to, squid fishing is the only thing you can do once night time is up on the cruise. It brings people together and creates lots of laughter at the same time.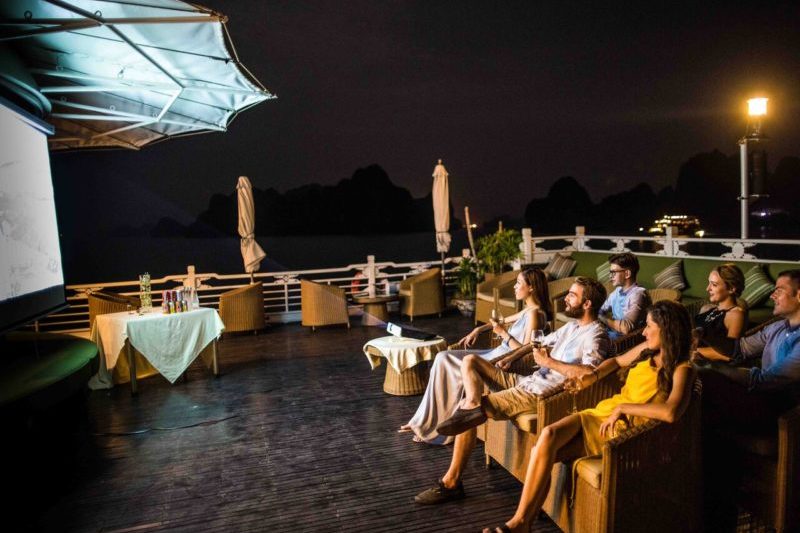 Outdoor Cinema
Enjoying a wide selection of classic movies under the celestial night of Halong Bay, this experience will absolutely be something memorable for cine-lovers!
Ha Long is in the North of Vietnam and with a tropical monsoon climate. 
Four seasons deliver four distinct weather features, which make it an amazing destination to enjoy during your holiday.
The best time to visit Halong Bay
October to December
The most popular period of the year for foreign tourists and visitors, October to December for some people can be the best time as the weather is not sweaty, the waters are still calm as during summers, and the sky can still be blue and clear.
The cons during this period is the large number of tourists from all over the globe, especially during Christmas to New Year's seasons, makes it extra crowded. Another disappointing factor is that the weather can be mostly dull, grey, and quite freezing because of humidity.
Again, the best way to avoid disappointment is to double check all necessary information with your tour operator or cruise company before booking anything. It's always best to be well prepared before flying to your final destination.
Pros and cons of each month & how pick your best time to visit or what to do when your cruise is canceled due to storms are discussed in details here.
Here are some recommendations of what to bring with for a well-prepare trip ahead.
Accommodation in Halong Bay
If you are looking accommodation in Halong City, many hotel options are offered to you, ranging from low-priced to high-end.
While going farther to the Bay, choosing a reputable cruise operator will add up to your trip. 
Being one of the most visited tourist destinations in the country and in all of Southeast Asia, the city has a lot to offer, from hostels, hotels, to home stays.
With hundreds of scattering islets and grottos around the Bay, cruising will give you a closer look and also the most convenient way to visit the attractions in Ha Long Bay.
Besides, saving time to move in between hotels and attractions, you won't have to worry about transportation, food, and attraction fees because everything will be included in your cruise package.
Ranging from day cruises to over 5-day cruises, and 3-stars to a 5-star level of services, there are more than enough options for you to see Ha Long Bay for a more intimate and personalized experience.
How To Choose The Right Halong Bay Cruise?
This might be one of the most important parts of your plan in order to have an unforgettable Halong Bay trip.
You and your family will spend the majority of time staying on your cruise for couple of days.
We will list out the Best Cruise Operator in Halong Bay that have good reputation, service, facilities, and of course with license to cruise in Halong legally. 
The checklist below will clarify your confusion:
Pick a perfect Halong Bay Cruise in 6 steps
How much time you want to spend on Halong Bay?
Because you will want to choose the cruise length according to your schedule.
Pick Your Perfect Halong Cruise
Success Pick The Perfect Cruise !
10%
Pick Your Perfect Halong Cruise
Success Pick The Perfect Cruise !
33%
Do you go with your children? 
Ha Long cruise cabin usually can hold 2 people only.
If you are looking for a bigger room for 2 adults and 2 children, i.e., or a connecting room, narrow down your list to the middle range to luxury lines.  
The mid-range to luxury cruises is a better choice for travelers with a specific need like special diet or more facilities.
Pick Your Perfect Halong Cruise
Success Pick The Perfect Cruise !
55%
The whole area includes Ha Long Bay, Bai Tu Long Bay, and Lan Ha Bay.
Both Bai Tu Long and Lan Ha Bays have many similar geological characters as Ha Long and less touristy.
However, you may miss famous attractions such as Surprise Cave (Sung Sot Cave), Luon Tunnel (Hang Luon, Titov islands, etc.
So, "with many people around" or "fewer people around"? It's your call.
Not sure what cruise length is the best? We have an in-depth article that details the different cruise duration here
Pick Your Perfect Halong Cruise
Success Pick The Perfect Cruise !
60%
After finishing the previous four checklists, you now have better ideas what kind of cruise line you want. 
But how can you pick the best one? 
Make sure to look at these checking points below to expect the best Ha Long Cruise!
Pick Your Perfect Halong Cruise
Success Pick The Perfect Cruise !
70%
5 lists are checked, now is the last but not least Check 6.
These tips will help you finalize the decision:
Bonus Insider's Tips: Booking Directly from Cruising Company Website
– Cruise Companies have to pay commissions for booking site agency Booking.com, Agoda, etc. so they can be listed.
– So, booking directly on their websites or sending an inquiry in case you still want to be clarified, you will find many great deals.
– Of course that only applies when they are reputable cruise lines & their sites are legitimate with security locks. 
Pick Your Perfect Halong Cruise
Success Pick The Perfect Cruise !
90%
Transportation To Halong Bay
From outdoor and active activities to a more relaxed and food-focused itinerary, there's always something to do.
The most common and the most time-consuming out of all the options. This option is also the most cost-efficient.
Most visitors get to Halong Bay (some from Lan Ha Bay) by land, whether by shuttles service booked through a travel agent or a cruise company, a private car, or a limousine service for those who need utmost comfort and privacy.
Prices range from US$15 to US$200 depending on which service you want to use for yourself and for your family/friends.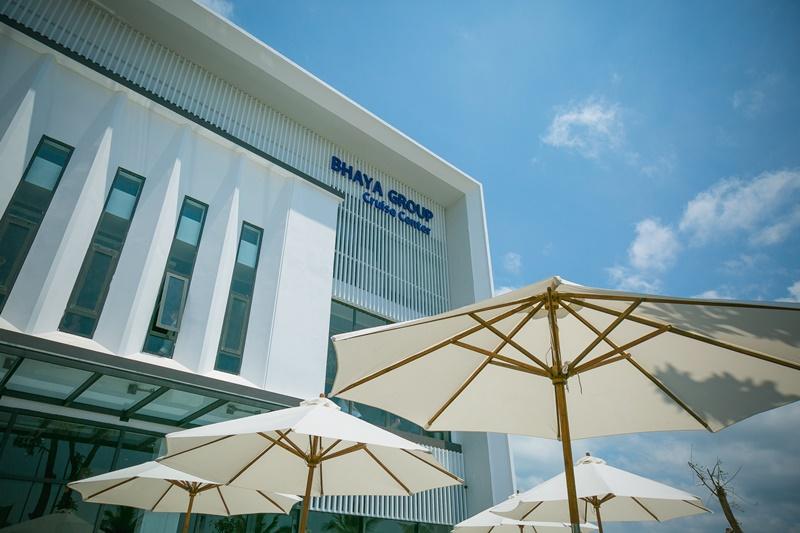 The next best option to reach Halong Bay is through air transfer. This could be anything from seaplane service to and from Halong Bay Cruise Company or by booking a private helicopter to Halong Bay (mostly booked by VVIPs).
With this option, you'll be able to get a scenic bird's eye view of the bay that only a few select have done.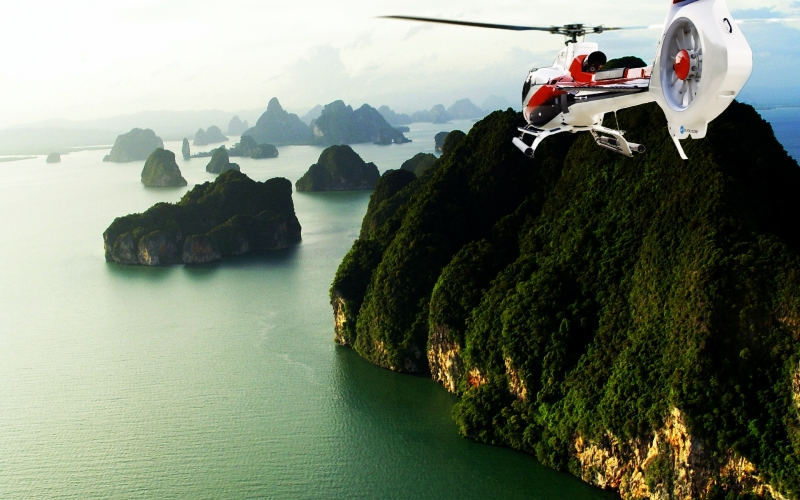 The least common option for reaching world-renowned Halong Bay, arriving by water can only be done if you're doing a trans-pacific cruise stopping in major areas such as Halong Bay, Da Nang/Hoi An, Nha Trang, Saigon, and other parts of Southeast Asia.
These are rare occasions and are mostly done by Chinese tourists coming from mainland China.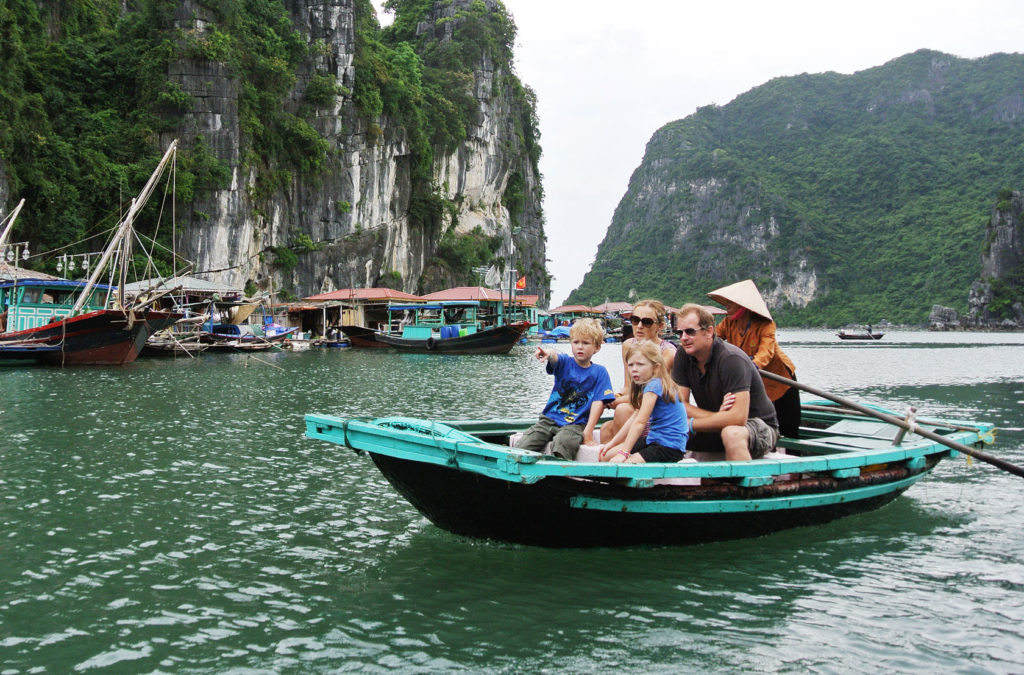 More in-depth at possible transportation options, comparing price between each option and step-by-step instruction how to book each transportation will be explained in
this article.
Do You Need A Visa To Vietnam?
After doing all your research about Halong Bay: picking cruise, checking weather/attractions you want to visit, don't forget to get your Vietnam Visa ready.
The official currency used in Vietnam is Vietnam Dong (VND) come mainly in polymerized notes, only a few small changes are in cotton notes. Cash in VND is preferably accepted everywhere in Vietnam, although credit card system is widely applied to tourism destinations and valuable services. 
Today, lots of cruises can happily do transaction online or via credit card offline. Sometimes, US$ dollars can be replacement (1 USD ~ 23, 233 VND). 
When coming to Vietnam, you are allowed to bring maximum US$5,000/person for the whole trip. 
If joining on a cruise, you don't really have to pay for anything else, other than souvenirs or tipping. The tipping culture is not very popular in Vietnam, especially in the Northern region. However, it is more commonly accepted in Southern region, especially in Ho Chi Minh City. So, feel free to spend your change as you prefer. 
When traveling to cities in Vietnam, a daily spend is around 300,000 VND/person. To prepare the best for your trip, make sure to prepare some cash ahead of time, bring along your credit card, and check carefully with your chosen cruise operator.
We hope this guide showed you how to plan your perfect Halong Bay trip. If you still have any question, don't hesitate to comment below.