Hanoi to Halong Bay: The 6 Fastest and Cheapest Ways to Get There (Updated 2022)
The Fastest & Cheapest To Travel From Hanoi To Halong Bay (Updated New Highway)

You can get from Hanoi to Halong Bay by the 6 main transports, which includes motorbike, coach, shuttle bus, private car, train, helicopter, and waterway transport (in Hai Phong).
This little article will provide the most up-to-date (2022) guide of these 6 main transports from Hanoi to Halong (or vice versa) and help you find the cheapest and fastest option.
For each transport option, we will also show you step-by-step on how to book.
Halong Bay is located in Quang Ninh Province. Previously, it took 4 hours to get from Hanoi to Halong City, now it only takes 2.5 hours to move from one city to another.
Noi Bai International Airport- 30 km (19 miles) away from Hanoi. This is also the most popular international airport to Halong Bay. Recently, there are other options that can be more convenient for foreign visitors: Van Don International Airport, which is 50 km away from Halong City; and Cat Bi International Airport, which is 44 km away from the city.
Most travelers will spend a day and explore the capital and travel to Halong Bay the next day.
However, after the new highway came into operation at the end of 2018, beginning of 2019, the distance between Hanoi and Halong is shortened from 175km to 125km. The traveling time from the capital to Halong reduces from 4 hours to 2-2.5 hours by car.
So travelers who have limited time still can visit Ha Long Bay from Hanoi and return on the same day.
Let's take a look at the chart below, it will show you the pros and cons, also the price of each transport option.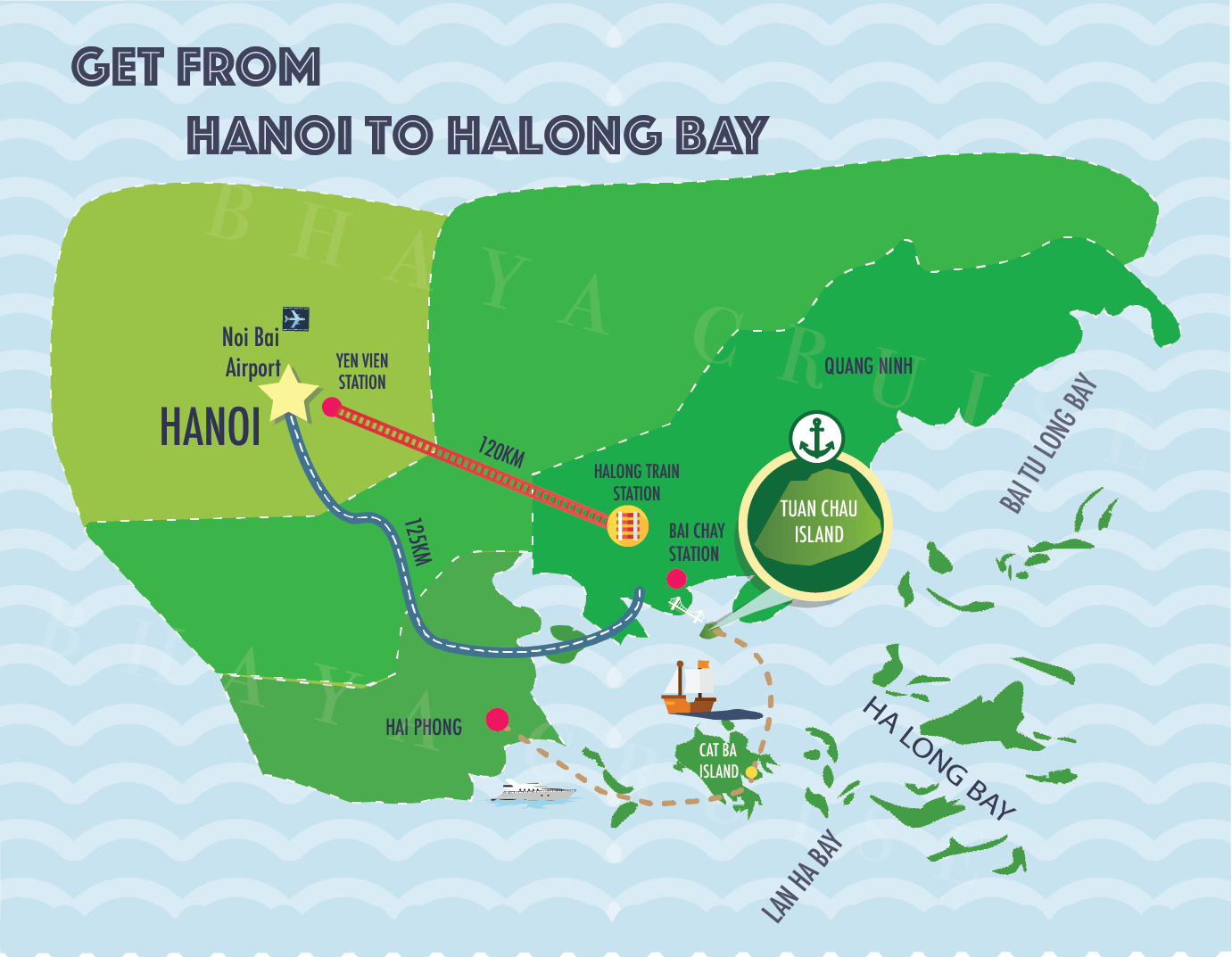 Share this Image On Your Site
Disclaimer:
While every effort and care is taken in preparing the content of this site, Bhaya Cruises disclaim all warranties, express or implied, as to the accuracy, completeness, or adequacy of the information in any of the content. All prices listed in this blog post are collected from research on the internet and are meant as a reference only. Actual prices might change at any time. The information in this blog post in no way represents the official prices committed by Bhaya Cruises.
Motorbike- The Adventure Choice

Cost:Around 100,000 to 2,000,000 VND ($5-50/trip)
For adventurous, budget travelers who wish to explore local life and scenery, there is no better way than driving a motorbike from Hanoi to Halong.
There are different routers for you to choose, like



Hanoi – Bac Ninh – Halong: Find 1A Highway-> Take exit Hanoi-Haiphong highway-> 

Continue onto 

Highway Hà Nội – Hải Phòng

/

QL5B

/

ĐCT04-> 

Take the exit toward

 Bạch Đằng Bridge-> 

Continue onto

 Hạ Long – Hải Phòng Highway


New Highway:

Hanoi – Hai Duong – Halong: From Hà Nội – Hải Phòng/QL5B/ĐCT04 Highway to Nội Bài – Hạ Long/Đại Yên/QL18 Highway


If your cruise's port locates at Tuan Chau Island (Most of the Halong cruise companies start from here) -> 

At the roundabout on QL18 Highway, take the 

1st

 exit onto 

Tuần Châu
How To Rent A Motorbike in Hanoi?
It is easy to rent a motorbike in Hanoi.
You can find many rental stores in the Old Quarter (or the West Lake area) served by English-speaking staffs and owners. 
Depending on the length of your stay in Vietnam, you can choose among monthly, weekly, and daily rental services.  
These rental shops provide various types of automatic, semi-automatic, manual, and touring bikes with brand names as Honda, Yamaha, Attila, Air Blade, etc.
Here are a number of motorbike rental shops in Hanoi for your reference:
To rent, you'll need to pay for a deposit and some rental fee. 
Generally, the rental shop will request a copy of your passport. 
If you are required to provide your original assortment, try to negotiate because you may need your passport for other occasions.
Pros & Cons of Motorbike Option
Driving a motorbike is obviously a cheap and convenient option for free spirits who love to explore Vietnam as how they prefer. 
The daily rental and gasoline costs are quite affordable; plus you can start your journey whenever you want.
On the other hand, it is quite dangerous to engage in the traffic in Vietnam, so make sure you are willing to take some risks and have good driving skill. 
Plus, it is easy to get lost, especially if this is your first trip in Vietnam. 
Even if you pay attention to the weather forecast before your trip, it can rain heavily all of a sudden or your bike breaking down along the way. 
Last but not least, a 3-hour drive can be time-consuming and tiring.  
If you insist on this option, choose a good motorbike and protection gear, a map, and a phone that can connect to the internet to google your way. 
It is best to go with a friend so that you have someone to rely on in case of emergency. 
And remember that as a foreign visitor, you have no Vietnamese driving license so actually it is not legal to drive a motorbike around. 
Generally, local traffic officers do not make things hard for you but you need to wear a helmet and follow traffic signals to avoid any trouble.
Local Bus (Coach) - The Budget Choice

Cost: Around 200,000 to 1,000,000 VND ($10-50/trip)
For those who travel on a budget, this is an attractive option as it costs as low as 100,000 VND (less than $5).
This means of transport usually has a lot of seats (the 45-seat type is quite common).
It took only 3 hours to travel from Hanoi to Halong Bay by bus, thanks to the new Highway.
Sometimes it took longer since local bus have to go around bus stops to pick their customers.
If you want a premium to luxury bus (7-9 seats, air-conditioner, wifi…), there are also variety of options for you to choose. Of course, the price could be double or triple comparing with a budget bus.
So, how to go from Hanoi to Halong Bay by bus?
Firstly, choose a bus station and a bus provider
You will want to choose the route that will stop closest to where your Ha Long cruise company port is (please check with the one that you book with).
Here are some main local coach stations that run Hanoi – Quang Ninh Province: 
1. Book Directly At The Station
For example: If you decide to pick Kumho Viet Thanh provider in My Dinh coach station.
You can call the direct number of Hanoi representative office in My Dinh Station to book a ticket or go to My Dinh Bus Station, ticket box number 8 and 9 right at the entrance.
The staffs don't speak English, so it's best if you have prepared some simple Vietnamese phrases.
Here are the list some reliable bus companies that you can consider:
 2. Book Online
To book a ticket online, go to https://vexere.com/en-US, put Hanoi as your location and Halong for the destination.
Note: There are fewer online choices than the ones in the station. 
Depending on where your cruise ports, you should pick the nearest bus stop to the port. 
Most of the buses will stop at the city center in Quang Ninh. You can then take a taxi to the port.
If you choose to go with a premium bus or a limousine van, they will have more drop off stops that are closer to many port locations. 

Select your date of departure and you will see a long list with details of coach provider, departure time, coach station, seat available, and ticket price. 
After clicking view seat, can proceed with booking your ticket.
The site is available in both Vietnamese and English.
If you don't want to worry about all the hassle of buying ticket and take extra transport to go between stations to where your cruise port, the shuttle bus option below might be a better choice.
Next, get off at station in Halong Bay
After getting off the bus, you need to catch a taxi, "xe om" (a kind of motorbike taxi), or simply order Grab with your smartphone.
It costs you around VND 100,000 for taxi and 50,000 – 70,000 vnd (~ $3/person) for "xe om".
This rate is for those who get off at Bai Chay station, which is 5 km from Tuan Chau Gate (Cruise Port).
If you can speak with the coach driver, you should tell him to drop you off at Tuan Chau Gate.
From here it takes you half of the taxi rate.
Is Local Bus Option A Good Choice ?
Yes, this option is cheap and convenient to find coach providers but it has many disadvantages.
The staffs at coach station don't speak English, so prepare yourself with body language and some simple Vietnamese phrases, or else you may miss your stop.
Coach stations are not located near the Old Quarter or West Lake where many visitors live so you need to catch a taxi, city bus, xe om, or Grab to the station.
Coaches often depart early so if you sleep in, you have to wait for the next coach in a very crowded and noisy coach station.
The traveling time is long, up to 3.5 hours. And the bus will go around to fill up customers along the road.  
Or maybe you will find some options below that are more suitable for you.
Shuttle Bus- A Convenient Means Of Transportation

When booking a cruise, you can ask the agent or a Halong bay cruise company for a shuttle bus service. They normally will offer a combo package, which is cheaper than you book them separately.
Sometimes, cruise companies will run special promotions and offer free transfer if you book a cruise with them. 
The cost will vary among different companies and different types of bus. But normal price will be around 250-500,000VND ($10-20) for a one-way ticket. 
In general, it is great because you don't have to worry about pick-up and drop-off points. 
The bus will pick you up at your hotel on request and take you to the cruise center where your cruise ship ports.
After your Halong Bay trip, the shuttle bus will wait outside the cruise center and take you back to Hanoi.
Previously, it took about 3.5 hours to get to Halong Bay as the traveling time has now been reduced to 2.5 hours with the opening of the new Hai Phong – Hanoi High-way since 15th October 2018.
For example, Bhaya Shuttle Bus departs daily from central Hanoi to the Tuan Chau Marina, Halong Bay. 
The bus will pick you up at your hotel in Central Hanoi and drop you off at Tuan Chau International Passenger Port.
– Distance (Hanoi – Halong Bay): 125 km
– Rest stop: 2 hours after departure. Around 15 minutes.The stop normally lasts around 15 to 20 minutes.
Check out Bhaya's best Halong Bay cruise from Hanoi.
Pros & Cons of Shuttle Bus Options
It offers more comfort and convenience than a local coach with normally 7-16 seats only.
The bus goes straight to Halong City and might have only a break within short time (~15 mins). It will not welcome new customers along the way.
Besides air-conditioner, Wi-Fi and water bottles are also served on the bus. Drivers can usually communicate in basic English so this can reduce the language barrier.
You won't have to worry about buying bus tickets or taking extra vehicle from bus station to the port. 
Private car - the utmost privacy

If you do not want to share the trip from Hanoi to Halong Bay with strangers or wish to be totally flexible of your schedule, a private car is your best option.
Whether you are a busy businessman on holiday or go on a vacation with your family, a private transfer will ensure the best privacy for you.
The price is often observed to be from 3,000,000 vnd ($150+) for a one-way trip.
You can ask your tour or cruise operator to arrange this service for you or simply book a taxi.
Here are some big taxi brands in Hanoi to choose from.
If comfort, flexibility, and privacy really matter to you, then yes, you should consider a private transfer.  
If you want to take a taxi to Halong Bay, make sure to confirm the total cost with the taxi driver. They may charge you more and choose to take a longer route than necessary.

Or check with your cruise providers, they might have private car at airport services packaged with their cruise tour.
Seaplane- Breathtaking Halong Bay View

Seaplane is the only option if you want to fly from Hanoi to Halong Bay. 
This is also the fastest way to travel from Halong and also the most expensive way. 
it takes only 45 minutes to travel from Hanoi to Halong by seaplane.
Traveling by seaplane you will get an amazing view of Halong from above, which a normal transfer or cruise cannot provide.
To book seaplane, you can contact directly with the company that operates the seaplane. 
Hai Au Aviation is the only service provider in Halong Bay with the cost of around $400/person/round trip.
Bhaya Cruises also does offer a combo package with seaplane transfer and cruise at very affordable price. 
Train - For A Slow But Safe Ride

There is a only one train that go directly from Hanoi to Halong Bay with the ticket fare about $4.5/person
The train departs from Yen Vien Station in Hanoi go to Halong City Station at 4:55 am & returns at 13:50 pm every day. 
For those who only have a day to visit Halong, the long traveling time of 6 hours by train is definitely not a good choice.
From the Halong station, you will need to catch a taxi to get to the city center so that will add to the cost.
On the other hand, if you do not mind the long traveling hours and love the sound of the train whistle, this safe means of transport can offer you a lovely view of scenery along the way.
Go to the home page of Vietnam Railway at https://dsvn.vn/ and choose the language at the top right of the page.  After that, enter the following information:

– From:  For departure point, type Yen Vien and select the Vietnamese name Yên Viên that appear on the list (if you do not see the word Yên Viên on the list, an error that happens from time to time, just enter and the system will automatically correct this mistake).
– To: Type the destination as Ha Long and select the Vietnamese name Hạ Long
– Other information: departure and return date, your choice of one-way or two-way trip.

After you see this screen, click on 'Buy ticket" to proceed to the next page of booking information (including payment details)
Once you confirm your ticket ordering information, you will get the order number and the amount of money you have to pay.
Collect your ticket when you arrive at the train station counter.
From Hanoi - Cat Ba - Ha Long Bay
Instead of going straight from Hanoi to Halong Bay, many tourists choose the route of Hanoi –  Cat Ba first before arriving at Ha Long Bay. 
That way, they can enjoy the also beauty of Cat Ba island, which is also a very well-known tourist attraction in Vietnam and is only about 15 km (9 miles) from Hai Phong City.
You will have to travel from Hanoi to Haiphong by car (bus, train) + speedboat to Cat Ba Island + Speedboat to Halong Bay.
How to get to Hai Phong from Hanoi

Getting to Hai Phong from Hanoi is relatively quick and easy:
By train:
Overall, the traveling hour is around 2- 3 hours/trip. You can depart from Hanoi Railway Station in Le Duan Street, Gia Lam Station in Gia Thuy Street, Long Bien Station in Tran Nhat Duat Street. The ticket fare is about $5-6.
By bus
This is the cheapest option which costs about 2 – $3 only. Depending on your location, you can choose an appropriate station such as Ha Noi Giap Bat Bus Station or Nuoc Ngam Station): around 1h 30m. The traveling time is about 1.5-2.5 hours.
By taxi
It takes about 1h 30m to get to Hai Phong by taxi, quite the same time if you go by personal means of transport like a motorbike or private car. The taxi cost is $75 – $95.
How to get to Cat Ba from Hai Phong

These days, many tourists catch a bus or car to the chosen ferry station and then get on a speedboat/hydrofoil to Cat Bat Island for about 45 minutes at the cost around VND 150,000-220,000 ($7-10USD).
After getting off the ferry station, they take a bus to Cat Ba Town.
To save cost, you can take a slow ferry of 15 minutes from Got ferry station to Cai Vieng ferry station (the timetable is as below).
After that, take a 30-minute drive to Cat Ba Town
How to get to Tuan Chau from Cat Ba

The most popular way to get to Tuan Chau Island from Cat Ba Island is by taking a ferry from Gia Luan Station to with ticket price of VND 80,000/person ($4USD).
There are 5 departure times everyday at 
Choosing the best transport means from Hanoi to Halong is not easy as there are many factors to consider like the weather, budget, and travel time.
All means of transport described above have pros and cons so please consider them carefully before making your decision.
We hope that you can find the best way to get to Halong Bay from Hanoi after reading this post.
More Halong Bay Travel Guide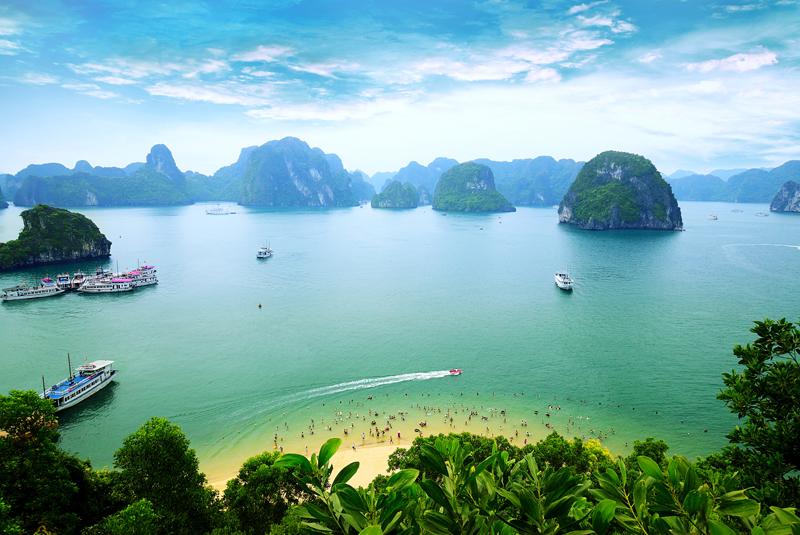 If you are planning a trip to Halong Bay while feeling lost and overwhelmed with all the blog post and information that roam the vast internet world about Halong Bay and beyond, this ultimate travel guide will give you everything you need to know to plan your perfect trip to Ha Long Bay.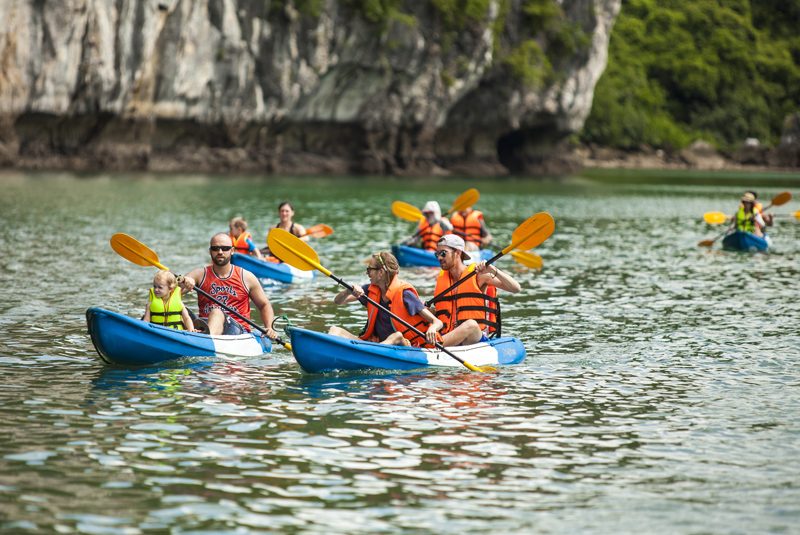 This post will give you pros and cons for each season of weather in Halong Bay, so you can easily to choose the best time to visit that most suitable with your schedule, budget, etc. Also, there will be instructions what you can do in case of your cruise tour get canceled due to bad weather.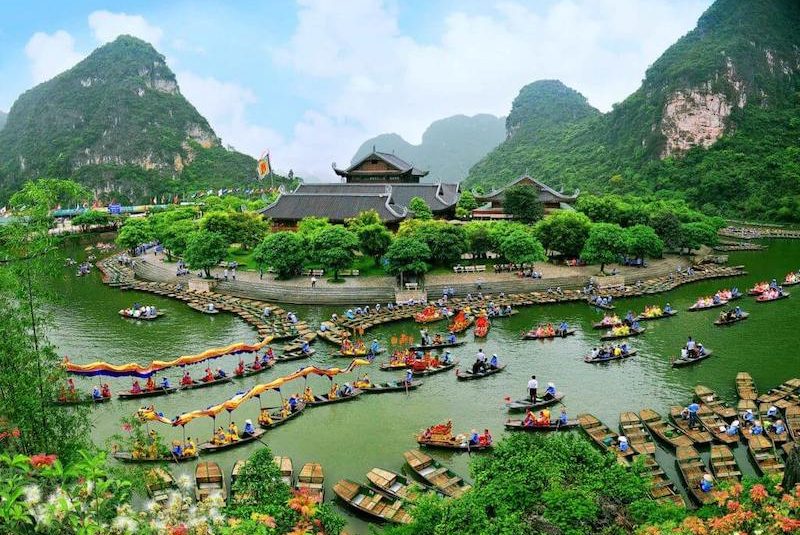 Halong is already very well-known internationally thanks to its status as a World Heritage Site while Ninh Binh is much more underrated despite its fascinating beauty. If you are wondering whether to take a cruising trip or visit the paddy fields, read on for more information.
Recommended Cruise Packages