Halong bay weather in June – What will the weather be like ?
Summer has truly arrived here in Halong Bay. June witness the highest temperature throughout the year with an average of 29oC. The weather is much more pleasant on the bay.
Halong Bay weather in June is perfect for you to enjoy the beach and swimming.
The Sunshine will stay for 8 hours a day and water temperature is around 27oC which allow you to stay active in the water comfortably for the extended period.
The following cute infographic is a basic weather index for Halong Bay in June.

You also can check out more about Halong Bay Weather of other months.
June Weather is good for traveling Halong Bay
You will see Halong bay at her finest under the sun which allows a clear view of the bay with emerald water, magnificent karst tower, and crystal clear blue sky.

8 hours of sunshine give you more time to explore Halong bay and therefore a less tight schedule.
All ships must arrive sleeping point before it's dark. It is not safe to cruise when the sun is out.
Summer is suitable for various outdoor activities which are a big plus for your Halong bay cruise.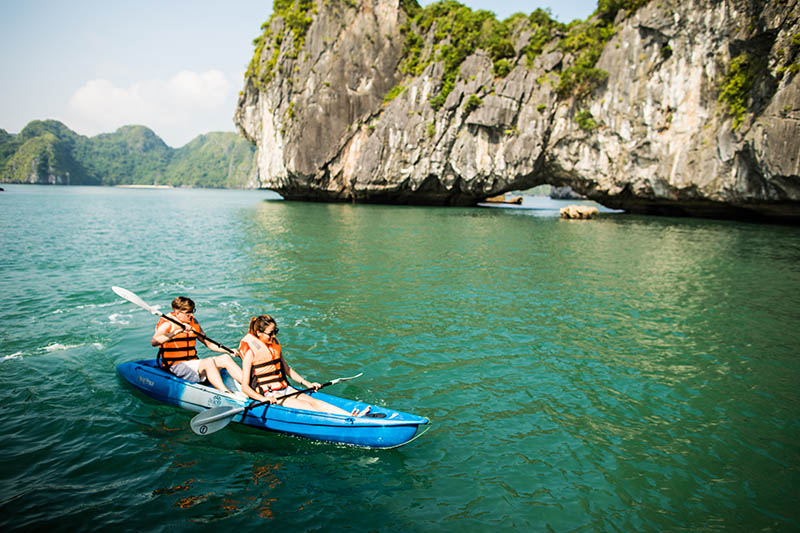 The average temperature of seawater is 27oC, perfect for swimming and kayaking.
Another point that makes June is a good time to travel Halong is deal and promotion. 
In fact, this time is low season for tourism so many cruise operators offer deals and discounts.
Check out Bhaya Cruises' special deals for 2 days 1-night Cruises & 3 days 2 nights Cruises!
June is good but not the best time to visit Halong due to some unexpected storm.
So be prepared and take some handy tips!
Tips for Cruising Halong Bay in June
Halong bay weather in June is pleasant and full of sunshine. Make sure you enjoy it to the fullest.
Bring sunglasses and sunscreen. Sun can be harsh during June, you won't want a sunburnt

Be careful with jellyfish. Most of the jellyfish in Halong is harmless except fire jellyfish. Even though the chance you encounter one is very rare, you should be ready. Take proper treatment can ease the pain.

Check the weather forecast regularly

Follow instruction from your tour guide when kayaking. Don't go into any cave without guidance. Water current changes in an unpredictable way which prevents you from getting out or worst, capsize your kayak and throw you back into.