Ways to stay healthy while traveling Halong Bay
You are a health-conscious traveler. You are looking for a getaway to rejuvenating the body and mind. Then Halong Bay could be a perfect destination. This blog will guide you ways to ensure both your physical and mental wellbeing and enjoy the Halong cruise at the same time.
Physical health
1, Healthy eating
Fortunately, cruising Halong you can enjoy fresh seafood caught in Halong and local vegetable from the region. However, you can still order a customized menu which offers more organic and low-fat food. They do offer a vegetarian set menu and vegan options for the buffet. So take most out of it to taste local cuisine in a healthy way.

2, Take advantage of spa and gym on board
A Halong cruise is a great place for a workout! Indeed, many cruises especially luxury cruise lines provide spa service and a gym room right on board.You can still catch up on fitness schedule while enjoying Halong discovery. Leaving the gym, or after an excursion, a body massage is an ideal way to unwind. Spa or gym on a cruise is a totally new experience. Imagine you will exercise in a room with spectacular sea view, or pamper yourself in the middle of karst towers and emerald water of Halong.

3, Join activities on the excursion
Halong cruises usually offer a combination of relaxing time on board and some activities off board which will give extra to your workout. With a 3 day cruise, there will be more activities to further part of Halong Bay and adjacent bay. Kayaking is the most popular and most favorite activities here. Halong Bay water is calm and surrounded by infinite of caves and tunnels making the place is the paradise for kayaking lovers as well as safe for everyone. If you visit Halong in the summer then swimming is not to be missed. On Taichi session in the early morning, you will be guided to do a traditional exercise, a secret to the long life of Asian.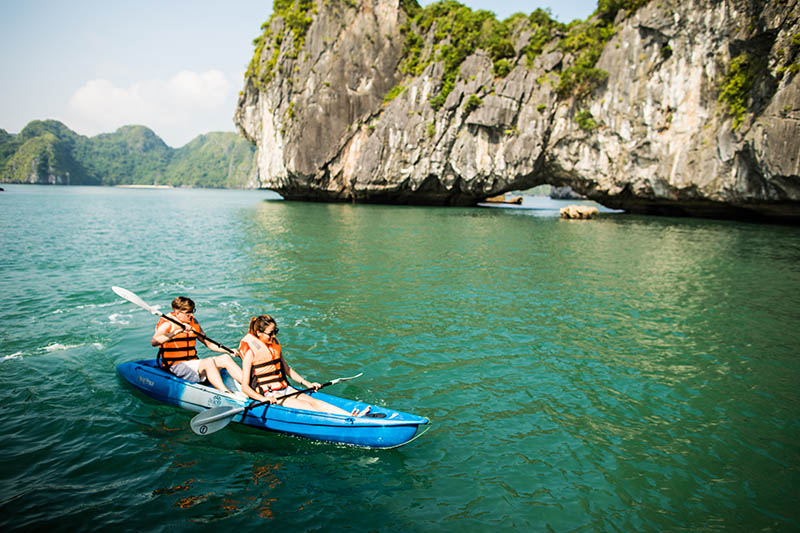 A special activity is biking and jungle trekking on Cat Ba national park (belongs to Cat Ba archipelago biosphere reserve). The area is an island inside the park, inhabited by a local village. However, cruising with cruise departs from Halong bayside, The Au Co Luxury Cruise is the only one which will offer this activity
Mental health
1, Do a mind detox
Halong is famous for its distinctive beauty and a unique ecosystem. Spend time here, you will be far from the busy life, from any stress and anxiety you may have. This is like a detox for your crowded mind.
Many people who have been to Halong say this place is out-of-this-world. So come to another world and renew yourself!

2, Make new friends and Meet the locals
During the cruise, your soul will be filled with plenty of new stories from people around the world. Having a great time together, you can find new friends or simply find new things in someone you already know.

3, Experience the indigenous culture
Halong Cruise is not only about sightseeing and leisure, but it is also about the experience of the ancient and long-lasting culture.
The study has shown that ancient people used live in Halong thousands of years ago. The community remains till today and had formed a typical Halong culture. When you cruise Halong, you will have the chance to meet local people. They are fishermen who were born on the sea and lived here for generations on floating villages. They are local farmers who still preserve their primitive way of life. Meet these ordinary people to see their special life.

If Halong Bay is the destination for your next trip, try these tips and return to the world recharged, revitalized.