A Dream Honeymoon in the Enchanting Halong Bay
Congratulations to you two! Now you are Husband and Wife so might as well take some time off from the crowd to enjoy your own world: the honeymoon. Many ideas to munch on this vacation and most of them are to spend time on a beach or getaway in another city. But how about a honeymoon on a cruise in Halong Bay to emerge into a World Heritage site, find your own peace, and still be able to meet new friends? Bhaya Cruises might offer the best option for your dream honeymoon.

Where to travel in honeymoon?
Many travel choices are considered for the honeymoon. Often it is time for the newlyweds to bond closer and relax. A honeymoon filled up with a cultural exchange or indulging retreat will surely open a hopeful chapter of life together.
On the other hand, the culture exchange journey usually means the couple going to a new city and being irritated by the common chaos that they have already met in reality: too many people, overwhelming opinions, prejudice, and unable-to-name stuff. The honeymoon is absolutely not like a Hollywood romantic movie, but it can be more idyllic than the usual hustle-bustle. It deserves the peacefulness because afterward, marriage life of the two will require double effort than a single life. So a tender opening is what all newlyweds look forward to doing.
A retreat honeymoon sounds awesome. But it's kind of expensive, especially for young couples who have recently entered work-life with an unstable income. Certainly, you two might have a very soothing time on a tropical island and won't have to deal with too many people. The whole kingdom is yours. For those who are extroverted, you might be worn out after a day. Perhaps the right decision of honeymoon style will benefit both of you and fill up with even more gleeful memories.  
What makes a honeymoon in Halong Bay different?
Halong Bay is picturesque all year round and its beauty is unique in different seasons. Yet everyone who ever traveled to Halong will confirm you the best time to enjoy the inner charm of this gem is from October to April. What makes these months the majority's preferences is due to the weather stability: much cooler and dry, hence, there will be no rain. As in Northern Vietnam, the winter is not bad at all for those who come from snow-winter areas. The sky is not gloomy as many people assume, indeed it can be very sunny in the midst of December, which will sparkle up the whole bay.

Vietnam is the nice fusion of cultural backgrounds. It touches a bit of Chinese, French, and local native styles to create a very exotic scene. Smaller areas have their own traditions and each is interesting to know. Halong Bay contains lots of islets, and about a thousand residents currently make a living in these ones. Plenty things from their habitat will breeze fresh air to your treasury journey.
Kayaking in Ho Ba Ham with your partner is one of the best ways feel the pristine side of Halong. Or doing in Cua Van Floating Fishing Village will expand your understanding of the true local life there, joining the down-to-Earth living. When kayaking is not your preference, perhaps saving the time to do biking in Viet Hai Village might be more appealing. On the other hand, if seeking a more relaxing activity, rewinding on a private beach in the bay area will allow you two to take a slower pace and enjoy the utmost tranquility. That being said, spending a night or two to cruise along Halong Bay will open your eyes to many levels of this World Heritage site.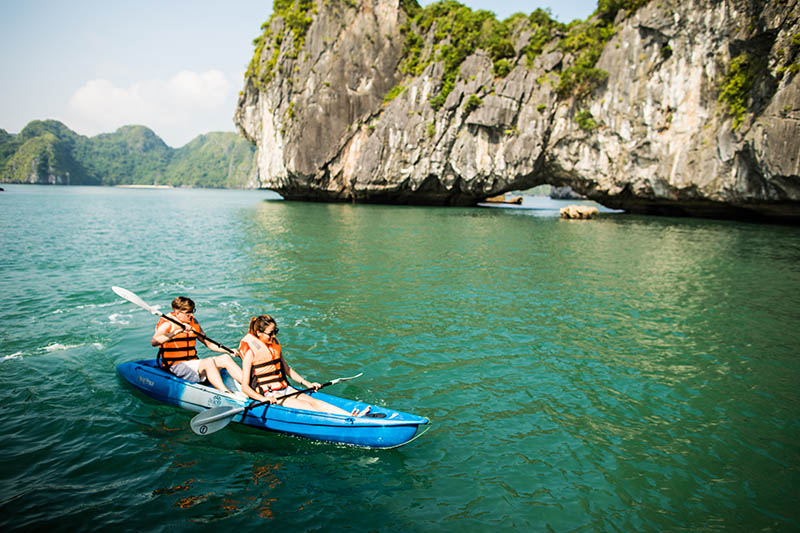 On the sundeck, many activities are offered to the newlyweds. For example, a sunset cocktail tasting session must be in any connoisseur's list. Our diverse menu can also satisfy all kinds of guests, so your happy tummies are our confidence. After dinner, the celestial night full of stars combining with the cruise's excellent service transforms the sundeck to a stellar outdoor cinema that will deepen the romance with your significant other. Until the next morning, you can rise and shine to join Tai Chi to have your mind and body rejuvenated, finding a whole a new world without horizon.

Plan your honeymoon with Bhaya Cruises
By experiencing the honeymoon via a cruise, not only you will indulge in the majestic sights of Halong Bay and get to know about the residents, but you can also lavish in exquisite services provided by Bhaya Cruises. Another bonus is its affordability and time properness that will make you feel "Worth it!" and might want to repeat "the honeymoon" annually.
Our itinerary is meticulously designed to suit everyone's needs, ensuring that you will have a fulfilling experience in Halong Bay. Benefiting from the lovely weather, make sure you will take advantage and collect splendid photos.
While on the honeymoon with Bhaya Cruises, you are suggested to spend 3 days & 2 nights to sense the bay's beauty completely. With various activities, the newlyweds will enjoy in their own time, meet new friends, and have fun all together. Also, an extra day will allow you to visit Cat Ba Island where Viet Hai Village, a self-sufficient village that produces fresh and organic farm food for both the residents on the island as well as tourists of all Bhaya's cruises. Spending time on this island is a special experience to feel all the privacy you're looking for and serenity from our Mother Nature.

So, what are you waiting for? Let's get into this dream honeymoon right away!