Checklist: To have a perfect Halong Bay Cruise
Perhaps having considered of visiting Halong Bay, yet you have no idea how to plan for this trip. The checklist below will ease out your confusion and will allow you to reach Halong Bay step by step.
   When to visit Halong Bay?
Halong Bay is such an attraction for most of the time, except during August when it can be influenced heavily from tropical storms. Otherwise, you will be able to witness its romantic beauty in the Autumn, feel the chill tingling in the winter, and take photos with the flowery background in the spring. Indeed the highly recommended months to visit the Bay is from October till November when it is in the transition of the Autumn and Winter as you can see the tranquility all around, plus the weather stability without breezing the chill will not bother winter-haters.


   Which cruise length do you prefer?
There are various options. You can have your cruise customized from 2 days/1 night to even a month. Do calculate your vacation length in Vietnam carefully and count Halong Bay Cruise in for availability.

   What is your budget?
The price of each cruise will depend mainly on its length. Other elements are onboard services, ship quality, and off-board activities. When preparing a minimum amount of $200 for each person, you are ensured to emerge in one of the World Heritage beauties along with many meaningful activities.

   How many people are you going all together?
Are you planning this trip to be an introspective solo adventure, to spend more private time with your significant other, to cherish a cruise party with your friends, or to simply bond closer to your family? Many different ships and boats are provided in the bay and based on your choice; the provider will suggest the best decision. If choosing Bhaya Group, we can generously offer you a luxury cruise of up to 32 cabins, or more classic one of 4-7 cabins, or a private charter cruise of 1-3 cabins.

   What to do when cruising?
Without knowing, majority assume that there is not much to do in Halong Bay, and being there over than 2 nights is quite tedious. However, if you can envision your ideal vacation and do a thorough research of Halong Bay ahead, you will want to make an effort to stay in this place as long as possible.
For those who want to seek a relaxing sort of cruise, indulging yourself in spa treatments or sumptuous meals must appear in your mind first. The idea of reading a book while sunbathing on the sundeck or on a private beach is enchanting, too.

Those who are more daring would love discovering the limestone system, and visit the national parks around the Bay. Fun activities like biking in a local village, kayaking around Halong, or snorkeling underneath the blue ocean will fulfill your energy surge.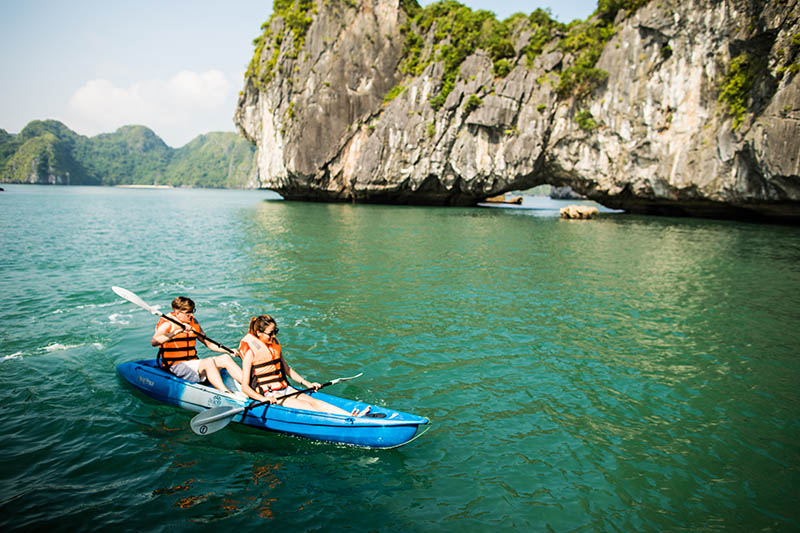 Cultural exchange travel can also be pleasing to most people as it is not super athletic nor doing nothing. The culture travel can be a perfect balance of the two types above when you are slightly active yet still be able to submit the serenity of Halong Bay. In addition, your curiosity about local life will be more expanding. To learn of their habit and be a part in it will surely become the most valuable memory of your whole trip!

   How to pack for the cruise?
In short answer: Light! In a further detailed answer, please take a look at the table below for further suggestions:

You would not want to bring in bulky luggage that contains too much unnecessary stuff, which might restrain you from having other cool things on the cruise. The lighter, the merrier since most of the operators in Halong Bay can deliver excellent service while you being onboard.
7. Do you have any diet restriction?
Last but not least, your way of diet is important. Be sure to notify the cruise operator about any food allergy that you have ahead, so there will be no accident barricading your holiday.


Bhaya Group has offered multiple cruises since 2007 as the pioneer of cruise operator introducing overnight cruise service in Halong Bay. Our fleets are various in sizes that provide the highest safety standards, art facilities, services, and amenities to secure an unforgettable cruising experience.  All itineraries are meticulously designed to meet our customer's different needs. Lots of fun and meaningful activities such as visiting Tung Sau Pearl Farm to know about the local living and see the pearl making process, or our sustainability tourism focus on the farming cycle cooperating with Viet Hai Village will make you want to keep visiting the Bay again and again.