3 attractive off-board activities you must try in Halong Bay
Halong Bay is most famous for its mystical scenery and the unique overnight cruising service. While taking the Halong Bay overnight cruise, there are various types of on board and off board activities for you choose from. The below 3 Halong Bay activities are what you should never miss on your trip to secure a memorable lifetime experience.
Kayaking through breath-taking limestone
While you can do kayaking in many other places in the world, kayaking in Halong Bay is a totally a different and unique experience. Here, with more than 2000 karsts and limestones, the bay has the perfect scenery for exploration and excursion. Never before you can get so close to the magnificent limestones in your life, where you can even touch the nature with your own hands and take a closer look at the living environment. Enjoying the ethereal of Halong Bay from water level is simply amazing. The combination of emerald sea water and green nature will take your breath away.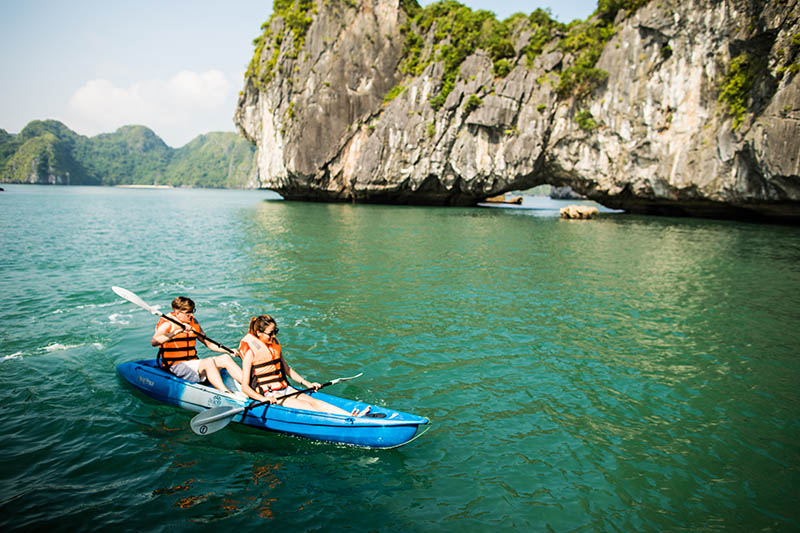 Biking on one of the island
Biking in the middle of the sea sounds unreal? No, you heard it right! Biking is indeed the popular Halong Bay activity that is loved by thousands of passengers. With more than 100 islands around the bay, many have humans habitat, you can even witness a typical rural life of residents here in their traditional houses and farms. Viet Hai Village on Cat Ba Island is one of the most beautiful destinations for a short biking tour around the bay. Passing by the mysterious tropical of the national park, enjoying a fresh breeze on the rice farm and visiting local residents' houses are what you should expect on your biking tour. With this activity, you will see the World Heritage Site in a different light. Get rid of the common route of normal tourist boats for the one who provides a biking tour, you will have the most unique experience compared to other tourists.
Biking on islands is only available on a 3-day-2-night trip. There you have more time to enjoy the nature's beauty and can actually cruise further into the neighbor Bai Tu Long Bay and Lan Ha Bay.

Relaxing on a white sand beach
Limestones, karsts, islands, floating village, what else Halong Bay can show you? Beaches.  Small and lovely white-sand beaches can be found anywhere around the bay. Although the beach here is small and tiny, its geological is amazing. Nowhere else in the world you can find beaches that are covered by tall and green limestones around, which create a lovely atmosphere that seems a lot like a private beach. When you get to the beach, you will only find your fellow cruise passengers on it, mostly like chartering the beach for your own boat.
Stay away from other crowded and busy beaches you may find everywhere, make sure you come to one of those lovely beaches in Halong Bay. Vung Ha beach and Three Peach beach are the perfect 2 options you may look further into. And don't forget to bring your own swimsuit, sun cream, and sunglasses to enjoy a tropical sunny sunbathing in the middle of nature.